Radhe – Your Most Wanted Bhai, starring Salman Khan, released on May 13, 2021, that is, on the occasion of Eid. Due to the deadly second wave of Covid-19, it was mainly consumed by Indian viewers on the pay-per-view platform, ZeePlex. But since it went for a hybrid release, it managed to release in cinemas well. But that happened only in the state of Tripura where it saw a release in 3 cinemas.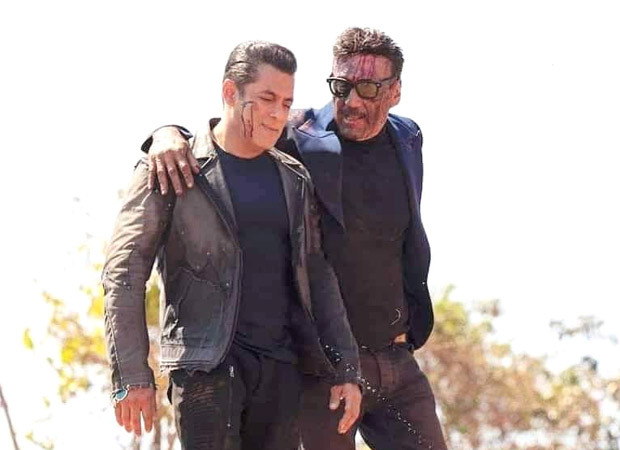 From June 11, Radhe – Your Most Wanted Bhai released in two cinemas in Maharashtra, in Enjoy Drive-in cinema in Malegaon and Khinvasara Cineplex (formerly Apsara Cinema) in Aurangabad. From these two theatres, the action entertainer managed to collect Rs. 30,143. From Friday June 18, Enjoy Drive-in cinema decided to discontinue the film. But Khinvasara Cineplex continued showing the film twice a day, at 3:00 pm and 6:15 pm.
Interestingly, the collections of Radhe – Your Most Wanted Bhai have remained rock steady. Bollywood Hungama had reported a few days back that last Friday, 22 tickets were sold in these two shows while 25 tickets were sold on Saturday. On Sunday, the theatre reported sales of 55 tickets. This is the highest number of tickets sold for Radhe – Your Most Wanted Bhai in a single day at Khinvasara Cineplex.
Surprisingly, the ticket sales were encouraging on the weekdays. On Monday, only 15 tickets were sold, but that's because only one show was played. On Tuesday, the ticket sales increased to 35. 22 tickets were sold on Wednesday while on Thursday, 26 viewers came to watch Radhe – Your Most Wanted Bhai.
A trade expert told Bollywood Hungama, "Radhe – Your Most Wanted Bhai collected around Rs. 1,653 on Monday, Rs. 3,856 on Tuesday, Rs. 2,424 on Wednesday and Rs. 2,864 on Thursday. These are approximate figures."
What has come as a pleasant surprise is that from June 11 to June 17, Radhe – Your Most Wanted Bhai collected Rs. 21,259 in Khinvasara Cineplex. But in the successive week (June 18 to June 24), Radhe – Your Most Wanted Bhai collected Rs. 21,813. In other words, the collections increased in the third week as compared to the previous week.
An industry insider says, "Imagine a film that was trolled left, right and centre and which has been easily available online for more than 40 days. And yet a small but significant number of viewers are still coming to see it on a daily basis. This shows the true stardom of Salman Khan and also that viewers are desperate to get back to cinemas, especially to watch big-budget films."
The three-week collection of Radhe – Your Most Wanted Bhai now stands at Rs. 1,15,204. Khinvasara Cineplex has decided to continue playing the film this week as well, at 3:00 pm and 6:15 pm. Sadly, the film's run will be halted from Monday, June 28 as Maharashtra has decided to impose restrictions owing to the spread of the Delta Plus variant.
Radhe India box office summary at a glance
Week 1 (released in Agartala and Dharmanagar in Tripura)
Day 1 [13 May] – Rs. 10,432
Day 2 [14 May] – Rs. 22,518
Day 3 [15 May] – Rs. 13,485
Day 4 [16 May] – Rs. 13,485
Day 5 [17 May] – Rs. 1,155
Day 6 [18 May] – Rs. 1,155
Day 7 [19 May] – Rs. 509
Day 8 [20 May] – Rs. 509
Total – Rs. 63,248
Week 2 (released in Malegaon and Aurangabad in Maharashtra)
Day 9 [11 June] – Rs. 6,018
Day 10 [12 June] – Rs. 5,445
Day 11 [13 June] – Rs. 6,229
Day 12 [14 June] – Rs. 4,460
Day 13 [15 June] – Rs. 2,986
Day 14 [16 June] – Rs. 2,602
Day 15 [17 June] – Rs. 2,403
Total – Rs. 30,143
Week 3 (retained in Aurangabad in Maharashtra)
Day 16 [18 June] – Rs. 2,203
Day 17 [19 June] – Rs. 2,754
Day 18 [20 June] – Rs. 6,059
Day 19 [21 June] – Rs. 1,653
Day 20 [22 June] – Rs. 3,856
Day 21 [23 June] – Rs. 2,424
Day 22 [24 June] – Rs. 2,864
Total – Rs. 21,813
GRAND TOTAL (till date) – Rs. 1,15,204