The Salman Khan starrer Radhe – Your Most Wanted Bhai has entered its 5th week in cinemas. In its first week, it ran in 3 cinemas in the state of Tripura. From May 21 to June 10, its theatrical run got paused but it resumed when it was released in Aurangabad and Malegaon from June 11. While the movie ran in the Malegaon theatre only for a week, the Aurangabad theatre continued playing it till June 27 after which theatres in Maharashtra were asked to shut again due to the fear over the Delta Plus variant. The same day, cinema halls were allowed to restart in Gujarat where the film got screened in 3 cinema halls – The Friday Cinema multiplex and Rupam Cinema in Surat, and Amber Cinema in Jamnagar.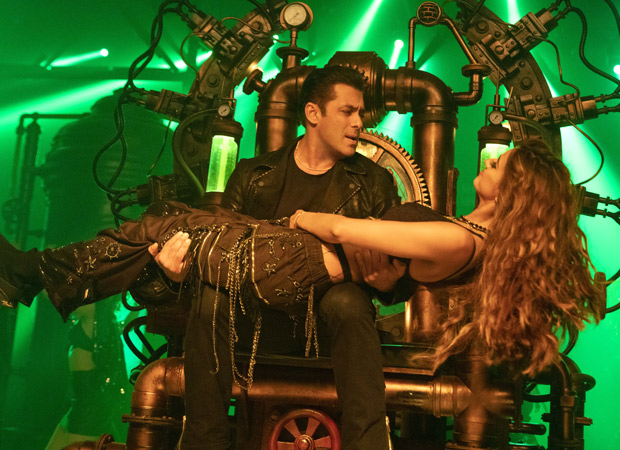 On the weekdays, Radhe – Your Most Wanted Bhai had a decent run in Rupam Cinema and Amber Cinema. In the weekends surprisingly, the response was below expectations in Rupam Cinema. At The Friday Cinema, some shows got cancelled due to no response. However, at Amber Cinema, the film is rock-steady. On Friday, 56 tickets were sold while 29 tickets were sold. On Sunday, as many as 92 people turned up to watch Radhe – Your Most Wanted Bhai. This is the most number of people who saw the action entertainer in a day in a cinema hall after its run in Tripura.
A trade expert told Bollywood Hungama, "Radhe – Your Most Wanted Bhai collected around Rs. 4,322 on Friday, Rs. 3,022 on Saturday and Rs. 11,523 on Sunday. These are approximate figures." The collections of Radhe – Your Most Wanted Bhai now stand at Rs. 1,71,587.
An industry insider says, "As the day passes, the collections will obviously fall at some point. Yet, the fact that viewers are coming to see a film which will complete 2 months in a week is heartening. Not to forget, it was heavily trolled and is easily available on the internet."
Meanwhile, theatres are allowed to reopen in Uttar Pradesh but Radhe – Your Most Wanted Bhai has not found a release in the Northern state. A source says, "It is possible as cinema halls are allowed to function only from Monday to Friday. Once theatres are allowed to function all days of the week, Radhe – Your Most Wanted Bhai will be screened in some theatres. The response in theatres in other states is surprisingly decent. And Salman Khan is a darling of the masses here and they'd surely flock to see the movie on the big screen."
Radhe India box office summary at a glance
Week 1 (released in Agartala and Dharmanagar in Tripura)
Day 1 [13 May] – Rs. 10,432
Day 2 [14 May] – Rs. 22,518
Day 3 [15 May] – Rs. 13,485
Day 4 [16 May] – Rs. 13,485
Day 5 [17 May] – Rs. 1,155
Day 6 [18 May] – Rs. 1,155
Day 7 [19 May] – Rs. 509
Day 8 [20 May] – Rs. 509
Total – Rs. 63,248
Week 2 (released in Malegaon and Aurangabad in Maharashtra)
Day 9 [11 June] – Rs. 6,018
Day 10 [12 June] – Rs. 5,445
Day 11 [13 June] – Rs. 6,229
Day 12 [14 June] – Rs. 4,460
Day 13 [15 June] – Rs. 2,986
Day 14 [16 June] – Rs. 2,602
Day 15 [17 June] – Rs. 2,403
Total – Rs. 30,143
Week 3 (retained in Aurangabad in Maharashtra)
Day 16 [18 June] – Rs. 2,203
Day 17 [19 June] – Rs. 2,754
Day 18 [20 June] – Rs. 6,059
Day 19 [21 June] – Rs. 1,653
Day 20 [22 June] – Rs. 3,856
Day 21 [23 June] – Rs. 2,424
Day 22 [24 June] – Rs. 2,864
Total – Rs. 21,813
Week 4 (ran in Aurangabad in Maharashtra till the weekend; released in Gujarat from Sunday onwards)
Day 23 [25 June] – Rs. 2,864
Day 24 [26 June] – Rs. 881
Day 25 [27 June] – Rs. 10,471
Day 26 [28 June] – Rs. 7,626
Day 27 [29 June] – Rs. 5,018
Day 28 [30 June] – Rs. 4,706
Day 29 [1 July] – Rs. 5,950
Total – Rs. 37,516
Week 5 (retained in Gujarat)
Day 30 [2 July] – Rs. 4,322
Day 31 [3 July] – Rs. 3,022
Day 32 [4 July] – Rs. 11,523
Total – Rs. 18,867
GRAND TOTAL (till date) – Rs. 1,71,587